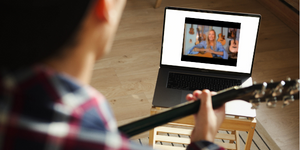 How It Works
Your unlimited lessons, classes and courses are facilitated online. You can access all content anytime and anywhere in the world. Each category of guitar topics contains pre-recorded video(s) with Marlene, along with accompanying electronically formatted text. You can learn from and study - any topic - in any category - at any time. Plus, your subscription includes access to live monthly Q & A sessions with Marlene!
What You'll Need: An acoustic guitar, an electronic tuner, and a device (computer, tablet, phone, etc.) with an internet connection.

What You'll Learn


Sample Guitar Categories
Picking
Strumming
Tablature
Music Theory
Guitar Care & Gear
Warm Ups & Exercises
Skills & Chords
Songs
and more!
Check your inbox to confirm your subscription